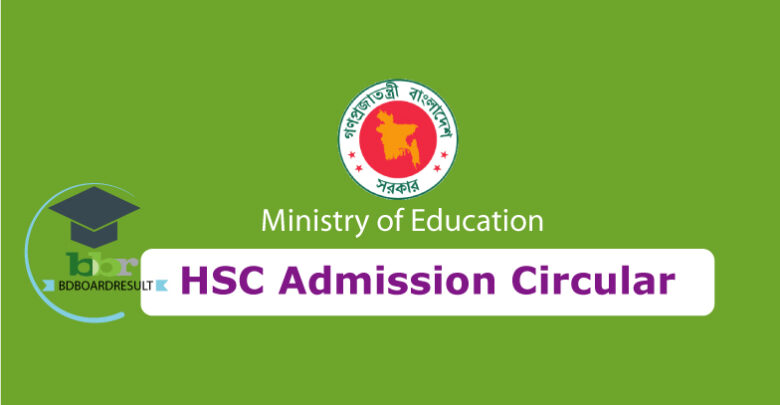 HSC Admission Circular 2022! XI class admission. The Ministry of Education Publish HSC Admission 2022 for the Academic Session 2021-22. HSC College Admission Notice Published After SSC Result. Every year Large Number Students Appeared the HSC Admission System to Study Higher Secondary Certificate (HSC). The Admission Circular publishes under Ministry of Education. Country Most Popular and All College take This Online Admission system under Education Board of Bangladesh.
The Government Announced That No Admission Test Will he Held for College Admission. So, Students have To Fill up HSC Admission Online Application Form to get seat in HSC Program. After That Authorities Will Make HSC Admission Result Merit list According to previous Exam (SSC) Result.
HSC Admission Circular 2022
I Going To Discuss About HSC Admission 2022 Circular and Notice. The Circular Has Published on July After SSC Exam Result. Students have To Fill up Online Application Form by Visit the Official Website and SMS. They have to choose Group, Shift and Version to Admit.
Bangladesh is going to be Digital Country. The Prime Minister Shiekh Hasina Declared That Earlier. So, That's Why The ministry of Education want To Make HSC Admission Process Based online. Through This Post, You Will Get HSC College Admission Notice, Requirement and More.
Xi Class Admission Circular
The Upcoming Xi Class Admission Circular 2022 Will be Publish for the session 2021-22. We Provide The HSC admission Circular as soon as Possible. But, You Know That College Admission Circular Will be Announce After SSC & Equivalent Result 2021.

Qualification for HSC Admission

If you want to admit yourself, you must have some ability. You can admit yourself according to education board rules and regulation 2022. Here some rules and regulation, which you would be need. please follow and read the rules below-
Your SSC Passing year must be 2019, 2020, 2021 from any Education Board.
If your Education Board is Open University, Your Passing year must be 2017, 2018, 2019
Those who passed from Science Group, He or she will apply for all groups.
Who passed from Business Group, He or she will apply Humanities and Business Group.
Who passed from Humanities Group, He or she will apply Humanities and Business Group.
According To Previous Year Circular, We Can Say That Admission Online Application Will be Start From Middle of May and Will Continue Till June. When Online Application Will be Over, Authorities Will Announce The Result Publish Date.
HSC Admission Online Application Start: 8th January 2022
Last date of Application : 15th January 2022
HSC Admission Result Publish Date: 10th January 2022
HSC Admission 2021-22
After Publishing HSC Admission Circular, We Will Get The Exact Date and Time. However, We Provide You the Circular at Below. Most of Things Will be Same as Previous Years Circular. Get The Basic Idea About College Admission 2022.
All Students of SSC Pass get details information XI Class Admission Notice 2022. As you Know all Education Board has given this HSC Application System (XI CLASS ADMISSION SYSTEM) 2022. Welcome all successfully passed students who are want to get Admission at XI Class. Here XI Class Admission System all information find easily from xiclassadmission.gov.bd. After completion the Admission Process, then  get the result you have to fight for the XI class admission 2022.
HSC All College Admission Circular
We Write Most of College Name below. All College Circular are same. All Over Bangladesh College Admission are Conduct Centrally except few College like notre dame College, Holy cross College and few others.
↪ Ahsania Mission School.
↪ Adamjee Cantonment College.
↪ Ananda Mohan College Mymensingh.
↪ Viqarunnisa Noon College.
↪ Dhaka College Dhaka.
↪ BAF Shaheen College Dhaka.
↪ Gulshan Commerce College.
↪ Ideal Commerce College.
↪ North City College.
↪ Ideal College Dhanmondi.
↪ Uttara Town College.
↪ Dhaka Commerce College.
↪ Tejgaon College.
↪ Western College.
↪ Shyamoli Ideal College.
↪ Queens College.
↪ Shadid Bir Uttam LT. Anwar Girls.
↪ Dhaka State College.
↪ BAF ShaheenCoollage.
↪ Dhaka Residential Model.
↪ Bangladesh Commerce College.
↪ Chaka City College.
↪ Daffodil International College.
↪ Dhaka Imperial College.
↪ Monipur School and College.
↪ Dhaka Cantt Girl's Public School and College.
↪ Uttara High School and college.
↪ MotiJheel Ideal School and College.
↪ Mirpur University College.
↪ Queen Mary College.
↪ Notre Dame College Mymensingh.
↪ National College.
↪ Merit Bangladesh College.
↪ Dhaka Biggan College.
↪ BAF Shaheen College Chittagong.
Hope You Find The HSC Admission Circular 2022 Details. Educationboardresults.com.bd is The Bangladesh Education Board Based Website Which Provide You All Education Information. We Also Post About Admission Result and Circular. We are happy to provide you enough information regarding the XI admission 2022. Hope the entire process of admission guideline clearer to you. Finally, Wish you all student very best.