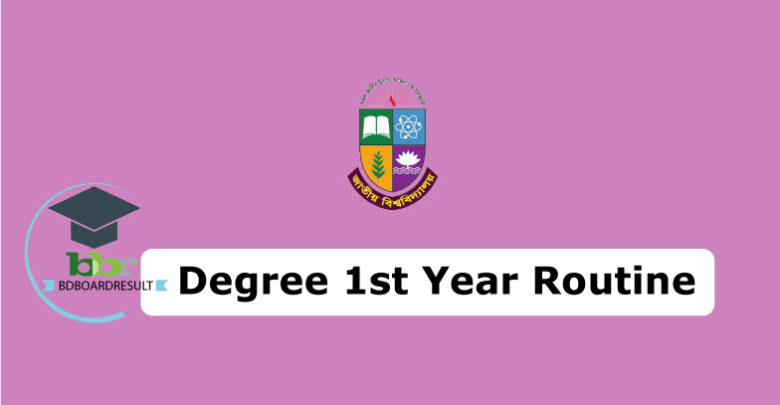 Are you looking For NU Degree 1st Year Routine 2021 of Session 2018-19? The Degree 1st Year Exam Routine Will Publish For The Academic Year 2020. So, This Post will provide you the Guideline and Instruction to Get Degree Routine fast and easily. We Already Know That Degree 1st Year Form Fill Up Notice Has Been Published. Now, Time To Announce National University 1st Year Degree Exam Routine. BA/BSS/BSc/BBS Degree Pass Exam First Year Will be Held on April 2021.
National University is The Largest Public University in Bangladesh. Degree Pass Course Students are waiting For Degree 1st Year Routine since Form Fill up Complete. So, Here I Will provide you Download Option With The Image file and PDF file of Routine.
NU Degree 1st Year Routine 2021
Every Year Large Number Students Get Admission in the Degree Pass Course under National University. Degree Pass 3 Years Course Students 1st Year Routine is Important for Them. This is The Perfect Place to Download Degree Exam Routine.
NU.EDU.BD official website might be Down after announce routine and Result. So, This Site Provide You Routine PDF File and Image To Download.
So, if you want to collect Degree 1st Year Exam Routine 2021, just stay with us. Don't worry; we are Always Try to Provide Routine fast after Announce by Authority. Once NU Publish 1st Year Degree Routine 2021, We Will Upload here To Download. We are Very Active to provide Education News in Bangladesh.
Degree 1st Year Form Fill Up Notice Publish on 24th December 2020. According To Notice, Form Fill Up Will Continue 26 December 2020 To 3rd February 2021. So, Students have To Complete the Form Fill up within the deadline Through Desire College. You have To Fill the Application Form through Online as The link www.nubd.info/degree-pass.
The Exam Will be Held For 2018-19 Regular Students. Also 2014-15, 2015-16 and 2016-17 Students Will Participate The Examination as Irregular Students, They Can Attend The Exam For Grade Improvement Result. Details are Provide below Image:
Degree 1st Year Exam Routine

This The Best place for where you Will Find All Type Education News as like Routine, Result, Admission Circular and Scholarship Update. As Like Through This Post you Will Get Latest Degree 1st Year Exam Routine.
Every Year National University Taking Degree 1st Year Exam For regular and Irregular Students, who Get Admission by degree Pass Course Admission Program.
Degree 1st Year Exam Fact:
Exam Start: 20/০৪/2019
1st year Exam End: 23/05/2019
Exam Start Time: 2:00 PM (Daily)
Exam Duration: 3.5 Hours
NU Degree 1st Year Routine Download
At present time, National University Exam and Result Complete in Right Time. They Organized The Exam According To Academic Session Calendar Provided by NU. Most probably The 1st Year Degree Exam Will be Held on the month of April 2021.
Every Exam Will be Star from 2.00 pm. Each Subject Marks Will be Written on Question paper. So, while you provide Answer be Aware of Time and Marks. Practical Exam date and Time Will be Provide Desire College.
Collect You Admit Card From College. Contact With College Authorities For Admit Card Collection Time.
Degree 1st Year Form Fill Up Summary:
Online application start: 26th December 2018 to 3rd February 2019
Student's application copy submit date: 4th February 2019
Pay slip submit date through Sonali Seba: 13th February to 18th February 2019
Form fill up website: www.nubd.info/degree-pass
In Conclusion: Ask Any Question Related Degree 1st Year Exam Routine 2019. Your Question Must be place at This Post Comment Section. We will give you The Answer as soon as Possible.